Buster with his brother Moses and sister Ambrin
On June 23, 1999 a little puppy was born. Somehow at 7 weeks he ended up at Animal Control. Having been married for only 4 years, we decided it was time for a new puppy to keep my Ninny Su company so I went to Animal Control and visited with several of the puppies. I found one that I fell in love with but was told he wasn't adoptable for medical reasons. I was starting to leave the Puppy Room when I looked up and there, in one of the top cages, was the cutest little puppy in the world. He was about 12" tall, very short tan hair, a long nose and just the most playful, happy, but sad looking little guy of the bunch. I got a worker to help me and we took him out of the cage. I took him out in the yard and he just loved to play. He was so frisky, so cute and just a bouncing bundle of love. He was the one!! I had to get him and so I did!!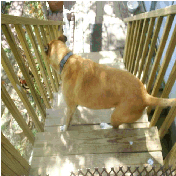 Buster going downstairs
I took this little guy home and told my husband that we have a new little guy to keep my little girl company. He began playing with the new puppy and we began trying to figure out names. I mean we went from A-Z trying to come up with just the right name that would fit his adorable expressions, emotions, temperament and still not be to crazy that we would have a bunch of nicknames and the poor little guy would never know his real name!! My husband let the little one out to do his business and when they both came back into the house he said, "That little Buster did his 'constitution' and then wanted to play! He is so full of energy!" Well, that name stuck....Buster!!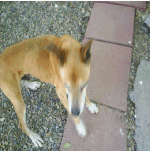 Buster just chill-laxing
We adopted several dogs after we got Buster. We had a Chow Chow named Bud, again from Animal Control, a Chow Chow puppy name Kieta, my daughter had a black Lab that stayed for a little while and then came to visit and after Ninny Su passed, we brought Ambrin Meeshaun into the family. Five years ago we brought an English Bulldog, Bozwell Moses into the family. Buster got along with all of them! He played with them, shared his toys at first and then learned that sometimes he didn't get them back so he began burying them so nobody could find them, not even us!! Not only did he get along with all these dogs but, we also had 3 black chickens, named Niger, Pepper and Licorice, a goose, a rabbit and a goat!! Now the goose gave Buster a run for his money. The goose, whom we named Joey, chased Buster and he never could figure out what made this 'giant running bird' tick!! But, our Buster didn't mind what or who we brought into the fold, he was good to all of them. From the time Buster turned one year old, we fed him nothing but Purina Dog Chow. No scraps, no garbage, no junk food.....only Purina Dog Chow. Later in years he got an occasional dog biscuit but he loved his dog food and if you tried to give him any of the other animals food, he wouldn't eat it. He ate Purina Dog Chow his entire life. His favorite toys? Ohhh my goodness, if it squeeked, it was his!! He loved to run around the yard with a squeeky toy in his mouth....squeek, squeek, squeek as he ran around. He loved his squeeky toys!! If they lost their squeek, he lost interest. A good toy was a squeeky toy and a toy that needed to be buried or put in the garbage was one that no longer squeeked, and that was Buster's rules!!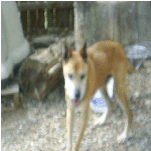 Buster beginning his downhill journey
One day, it was a Sunday, we were beginning to eat dinner and for just some reason my husband said he had to check something in the garage. I mean, out of the blue, he had to check something!! He went out to the garage and here was Buster, eating something. Upon further investigation he learned that Buster had gotten into a package of rat poison. I immediately called a Vet and he said to bring Buster up to the clinic immediately and he would meet me there. Now take note, this was back in the day when an animal was an important member of the family and Vets truly cared. This early evening was a time of "First's"!! Buster had never been out of the back yard, he had never been in a vehicle, he had never gone for a ride, he had never been around strangers and he had never been on a leash!! Here I was with this dog that stood almost 3' tall, trying to carry him and put him in my husband's truck, trying to get him to the Vet's clinic!! When we got there, I now had to try to get him into the building!!!! Finally all was said and done and we were sitting waiting for the Vet. When he entered and began to walk towards us, Buster stood his ground and said: "Nobody is coming near MY Mom!!" He barked, showed his teeth and did everything in his power to protect me from this 'stranger, this man'!! The Vet retreated to a back room and came out, tossing me a blue thing. "Muzzle him!!" was all he said. I put the muzzle on Buster and was then instructed to lift him up onto the examination table. YOU MEAN I HAVE TO PICK HIM UP AND PUT HIM ON THIS TABLE BECAUSE YOU ARE TOO AFRAID TO DO IT??? And he's the Vet!! Buster was given Syrup of Ipecac to encourage vomiting. The Vet said if I had waited even another 10 minutes in getting him there he wouldn't have made it. Rat poison is very, very dangerous. All turned out well, we got back into the truck, removed the muzzle and off we went, homeward bound!! That was the one and only time Buster got into trouble beyond his control and we saw for the first time how protective he was of Mom.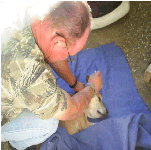 Daddy saying his goodbyes
In early May, 2013 Buster seemed to be acting differently. Upon closer examination we notice that suddenly, just overnight, his eyes had both turned completely white. Buster was blind. He bumped into things, he was afraid to move, he was now totally dependent upon scent and sound. Within a few days he lost his hearing. I can't even begin to tell you what it was like to see him standing by his dog house, afraid to move, not hearing the birds, his brother barking at him to keep away from his swimming pool, his sister barking from the deck as kids rode by on their bikes, the mailman, the UPS truck, both of which he always delighted in barking at, he couldn't hear. Even the meter reader who always stopped by to give him a bone, he couldn't acknowledge. He was in a silent world and a world that had turned black. When we went out to feed him, we had to talk really loud and, at first, he seemed to hear but it wasn't long until we saw that he had total deafness. We'd approach him and touch him so he'd know we were there and he would jump. He began sensing us thru scent. If I went downstairs, he'd get up and try to find me thru scent. He no longer wanted his dog food but instead only wanted a cut up slice of bread and tater tots. We had to lead him to his bowls so he could drink because, remember, water has no scent!! It was the saddest to watch. I called around to see if there was anything that could be done for him and got the same information from every Animal Hospital and Clinic I called: "It will be around $XXX to $XXX and it must be paid upfront before we can do anything." Well, I am not ashamed to admit, we aren't rich people. We are a one income couple with a mortgage, two old vehicles that are paid for, utility bills....basically we are like most people, just barely making it from paycheck to paycheck. There was NO WAY we had that much money. A lot of people depend on others to 'donate' money but we believe that if you are going to have an animal, it's also up to you to get the money for their needs. It's not up to my friends on Facebook or on Twitter or neighbors or family to put up the money for my pet. It's our responsibility, not theirs!! I hear it every day on Facebook: "People shouldn't have an animal if they can't take care of it! They are expensive" and in some cases, won't even let them adopt the puppy because they are afraid they can't financially take care of it but, at the same time, you will see them online asking for 'donations' or for an auction to get money for a surgery or medications or tests for their own animal." That is totally wrong! We called around and it appeared that there was no way we could see a Vet. I will honestly say, the Vets that we called, which was most of them, have specific hours that they are open, they absolutely DO NOT take in a sick dog on Sundays or holidays. They are ALL about the money FIRST and then the care of the sick and dying animal. I was referred to an Emergency Clinic and they were rude and made it clear that Buster would have to be brought in to them, they only had one Vet available and he wasn't there at that moment and again, it would cost $XXX before anything was done. At this point, Buster's quality of life was gone. He was refusing to eat, drink, walk around, play, or even acknowledge that there was a world outside of his dog house. He just wanted to sleep. All we wanted by now was just for a Vet to come to our house and give him 'the shot' and leave. NO VETS here do that unless it's a horse or cow!! We tried to keep Buster comfortable but we knew the end was near. I have always made it a point to help others thru difficult times but now, we had to do this alone.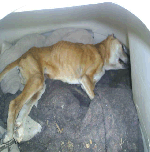 Rest in Eternal Peace sweet Buster
My husband mowed the grass and came into the house for a break. He went back outside and with fear on his face he ask me: "Where's Buster?" Well, Buster couldn't walk very far, can't hear, stumbled when he did walk, didn't feel comfortable leaving the security of his dog house so it wasn't possible that he could be missing! Fear grabbed us both. Where is Buster? We began searching the yard and found him curled up in the farthest corner of the yard from his dog house. He had somehow walked across the entire yard, not walking into a tree, a gazebo, a bird bath, a lilac bush, 3 rose bushes and a shed that were all in line with the path he took. Both of us kept saying: "No! No!" Yes, we wanted him to cross the bridge so he wouldn't have to suffer but at the same time, we weren't ready to give him to God just yet!! Anyone who has lost a pet knows that you are so torn between doing the 'right thing' and 'doing the selfish thing'. Not even thinking I reached for him and he put his head up and tried to wag his tail. He was telling us it was time and he was hoping we wouldn't see him pass. I carried him across the yard and put him carefully in his dog house and told him it was ok to go. We both told him how much we loved him and we would miss him terribly but one day we'd see him again. I told him I would keep his squeeky toys and would not let any other animal have them. The next morning, June 15th, 2013...one week before his 13th birthday, Buster crossed Rainbow Bridge. He found a squeeky toy over there, too!! Running, playing, happy, silly, goofy.....Buster is like he was when we got him, just maybe a little more mature.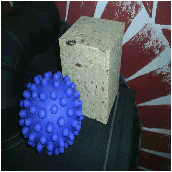 Buster is Home!
This was the first time we have had one of our pets pass away at home, unattended. I called 5-Light Crematorium and the owner said she would come right out and pick him up. She was so nice. She cared. So far, just a handful of friends on Facebook and this Lady were the only ones who cared. There were three things that made this the most unbearable. Number one: All the Vets and Animal Clinics here are more interested in money than in pets. They know how much people love their animals and will pay whatever it takes for their care. Well, some of us don't have that option. It doesn't mean our pets mean less to us, it just means the money isn't there and they should work with us for the same care. Number two: The lady that came to pick Buster up told us, after hearing his symptoms, she informed us that Buster had died of Diabetes!! It's managed with medications and curable!! Because of money, he had to suffer!! Number three: People are so wrapped up in their own problems they forget that others might be suffering too. I spent a lot of time taking care of Buster and his sister who is dying from a tumor on her liver but, I still MADE time for my friends on Facebook who were dealing with sadness, tragedy, a family member that was in the hospital, several friends who had just lost their pets and needed memorials composed, and even a friend who lost a pet and is in the process of getting a new puppy. I tried to care about everyone while dealing with Buster....ALONE!! My husband carefully wrapped Buster in his favorite blanket and we turned him over to the dear, sweet lady from 5-Light. She was so compassionate, so caring and was just a blessing to us. We removed his dog house and began cleaning up his area. From the grave, Buster brought us one last smile, as my husband raked the area, he noticed a hole that had been on the back side of his dog house. Inside the hole was a toy he had taken from one of his brothers long ago. Also in the hole was a big bone and a couple of his toys!! We had located Buster's Stash!! His ashes will be returned to us and the circle of his life will be complete. Buster will be back home with his family who loves him, his brother and his sister. Oh yeah, his squeeky ball will be right next to him!!! We love you Buster and we miss you every day!! Run free...big boy, Run free!!!!