Cinnamon Su
My precious little angel has passed into the light. She was born two minutes after midnight on January 1, 1987. She was my New Year's baby! Her mother, also my special little girl, was named Munchie. One day a neighbors male Schnauzer got into our yard and soon we were expecting puppies. The puppies were born in the closet of my bedroom. I found loving homes for all five puppies. A few days after the reddish puppy was taken home by a very loving elderly woman, a gentleman came to my house and told me that his mother was told by her new landlord that she couldn't keep the little puppy. She was very upset because her previous landlord had told her she could have a puppy as long as it wasn't going to be a big dog. Upon returning the little reddish puppy, I decided to keep her. I remembered the saying which goes something like this: "You must set it free but if it returns to you, then it is yours to keep". I named the tiny puppy Cinnamon Su. She survived 3 kids and was always so smart and cute.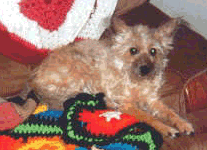 Cinnamon on the Couch
In 1998 she became ill. I waited until the Vet's office opened and immediately took her in for a check-up. The Vet said she had to have immediate surgery. It was discovered that she had a 'female infection' and had a complete hysterectomy. The Vet said if I had waited another 30 mins. she wouldn't have made it. She stayed for three days and then came home. It was the longest three days of my life. I missed her terribly and it was the first time we had been away from each other. You should have seen the little pink stitches on her tummy! My sweet angel made a perfect recovery. Then in 2000 she was again quite ill. She lost weight and was miserable. Again we went to a Vet and she was diagnosed with Congestive Heart Failure and Kidney disease. She was put on medication, a special prescription diet and began to gain weight and be herself again. In February of 2004, after increasing her medication for the third time, she began to feel bad. We took her to the Vet for another blood test and they suggested that possibly her liver enzymes were unbalanced. She was having a terrible time and finally the weekend of February 28th and 29th, she stopped eating. She was weak and tired and everytime she woke up or moved around too much, she would vomit up the sticky substance that goes with Conjestive Heart Failure. She let me know, it was time to let her go.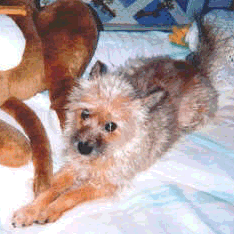 Cinnamon on the Bed w/her Lion napper
As you can imagine, it was an extremely difficult decision but one that had to be made because to love her was to not let her suffer. Her 'happy' was gone and she was no longer enjoying quality life. It was time. I prayed to God to take her while she slept, if it was His will. On Monday morning, March 1, 2004, she woke and went outside to 'do her job'. When she came in, she began her vomiting routine and after the episode, she sat down on the rug and looked at me with such pleading eyes. She was asking me to let her go. I cried. I held her and then took her to the Vet.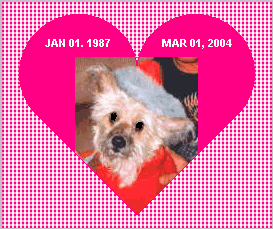 Cinnamon with her hoodie Coat
The Vet and employees were very understanding and compassionate. I sat in a private room and held her. She had on her little red coat with a hood because the temperature outside was cold. We always called her 'Little Red Ridinghood'. I removed the Noah's Ark baby blanket that was wrapped around her, then removed her coat and handed her to the Vet. I kissed her little black nose, told her I loved her and I always would. I told her she would always be in my heart and none would ever take her place. Within a couple minutes, the Vet returned, cradling my little princess like a baby. As he entered the room, her head fell to the side and she was 'looking' at me. The Vet informed me of how surprised he was. He said it usually takes awhile for the medication to relax the animal and then another larger dose is what stops the heart. With my little darling, he only had to give her but a tiny amount before her heart stopped. She always got very shakey when she sensed she was at the Vet's but this time she was completely relaxed. She wasn't afraid and she didn't struggle. The Vet said the precedure was usually messy due to the amount of fluids that escaped once death took place but, there was no mess.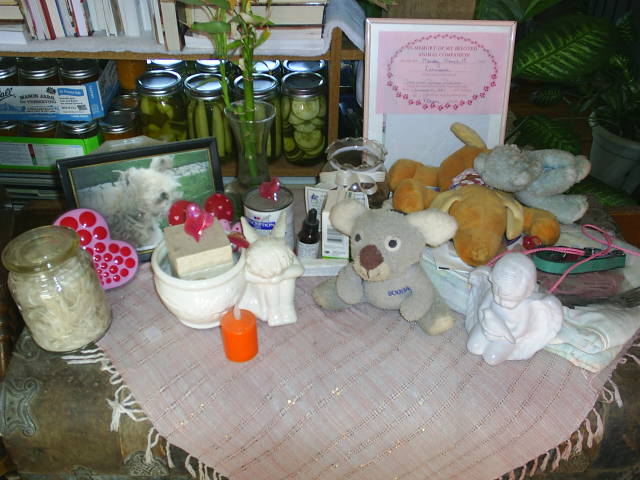 Memorial for Cinnamon Su
I was allowed complete privacy for as long as I needed. I held her little body and cradled her for a long time. I knew her spirit had passed into the light and what I was holding was like a worn out coat. She had shed her worn coat and had gone into the light. She was now happily playing in the fields of heaven, renewed, healthy, and full of life! Yes, I miss my little angel terribly. I have cried enough tears to cause the largest river to overflow. It's the selfish part of me that wants her to be with me so I can pet her, hold her, tickle her little feet, give her her bedtime massage, cuddle her and see the sparkle in her eyes when I come home but, the loving part of me knows that, as hard as it was, I did the right thing, the most loving thing. I let her go so she could get out of her tired worn out body. I have allowed her to be happy and have a renewed spiritual body. I have studied the psychic James Van Praagh, and when I was at my lowest, I went to his website and joined in a chat with a special Animal Communicator, Jacquelin Smith. She gave me a 'reading' and told me that my little angel was thanking me for allowing her to passover into the light. Jacquelin said my baby girl would be with me for a long time and that she knew how hard it was for me to let her go. I gained so much strength from this and each day I am shown that my little princess is with me, around me.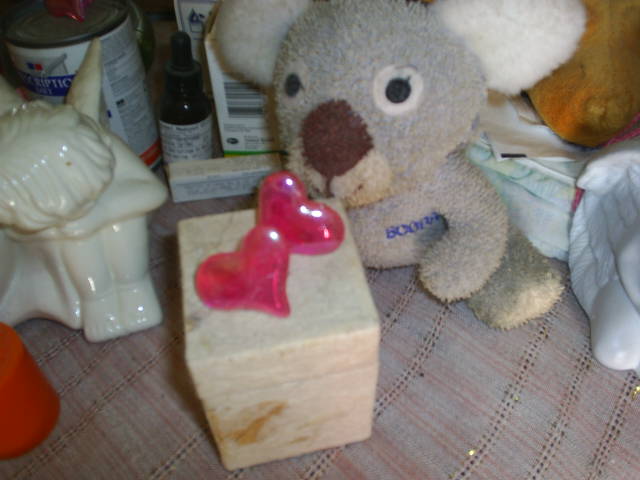 ">
My Precious little Angel Girl
March 5, 2004, my husband picked up her little container of ashes. Now the circle is complete. She is back home with her loving family. My little angel isn't here physically but, one day we will be together again and that will be the most wonderful day. Rest in peace sweet little princess! I love you and you are very special.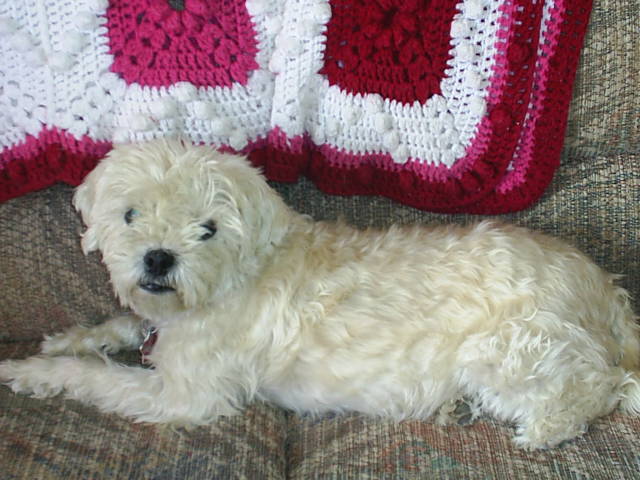 Ambrin Meshaun (Meeshie)
It's been a rough road without my little princess but, I wanted to add an update. When I left the Vets office, I couldn't imagine going home to an empty house with no little doggie kisses so I decided to stop by our local Animal Control and just sit with the animals who didn't have forever homes. I felt just as displaced as they did so I thought we could lean on each other and absorb each others pain. I walked into the various rooms looking for a dog that I could just take outside and be with. I needed the companionship of a canine but not just any canine. As I went into what was called the Puppy Room, I noticed in the bottom row of cages, back in the furthest corner was a little dog that was an exact copy of NinnySu!!!! Was Jacquelin Smith right? Was my little angel going to be with me for a long time thru a healthy dog that was the same color, same size and same personality as she? I went to the cage and said "Ninny Su! You look like my Ninny Su!" Look for yourself!! Look at the very top picture and then look at the very bottom picture! Except for the ears, don't you agree they are the same color and look alike! (The other pictures of Cinnamon were taken indoors and the camera didn't do justice to her coloring.) The little dog got all excited, jumping against the cage and wanting out. Hanging near the cage was a leash. I put the leash on her and we went out in the yard. I know you won't believe me but she jumped, she snuggled, she gave smoochies, she walked, she sat, she did EVERYTHING exactly like my little angel! I truly believe that it was my angel in another form. Needless to say, I had to have this dog. After a clean bill of health at the same Vet's office (ohh yeah, the Vet and all the employees agreed that she looks just like Ninny Su. They were totally shocked!) I got to take her home. As soon as she came thru the door she walked around, checking everything out, and I swear to you, she acted like she had been in our house before. That night she jumped up on the bed and sniffed where my little angel always slept. She carefully laid right next to the spot. She looked out the window as if telling Ninny Su that everything was going to be ok and that she would take good care of 'Mommy' and you know, she has!! Many a day and/or night Meeshie looks towards Cinnamons memorial and you can see her connecting with her spirit. Cinnamon guides Meeshie. One day, upon my passing, my little angels will be placed beside me for eternity and that will be a wonderful time.